The new generation of light-cured resin 3D printers brings precision and ease of printing to the hobby and enthusiast sector of the market that was previously the domain of extraordinary-cost machines. They're increasingly used by professionals too.
While the materials are both costly and of somewhat limited strength, this is a rapidly developing sector that, until now, has not been cost-conscious and has received limited R&D efforts in materials development.
Amazing materials were developed, for both the older SLA process and even more so for the inkjet-based Objet machine range, and the latter technology is now showing signs of trickling towards this new sector.
This is responsible for bringing tougher materials, directly printable rubbers, medical-implant and optical-grade materials, and more into the home printshop sector, in time.
This article will explain the relative benefits and advantages that the Elegoo Mars and AnyCubic Photon printers bring to this burgeoning sector. It will introduce the capabilities of the two machines, the setup and operational issues that are identified, and aim to provide the reader with a basis for selecting between them, according to their own needs.
Major Differences Between Elegoo Mars and Anycubic Photon
It's worth mentioning that really, the differences between the two machines are much smaller than the similarities.
Starting from almost the same point, following very closely parallel paths, using the same light cure technology applied to the same materials, and aiming at exactly the same market sector, the machines look more different than they are.
One notable difference is the visibility provided by the acrylic surround cover of the Elegoo machines — markedly better observation of the ongoing build is possible than with the AnyCubic acrylic door and windows.
Setup
Both machines arrive with some very light final assembly work to perform. Nothing challenging, just a few minutes of simple part fitment and then bed leveling and filling with resin.
For the Elegoo Mars, with the machine powered up, this setup involves: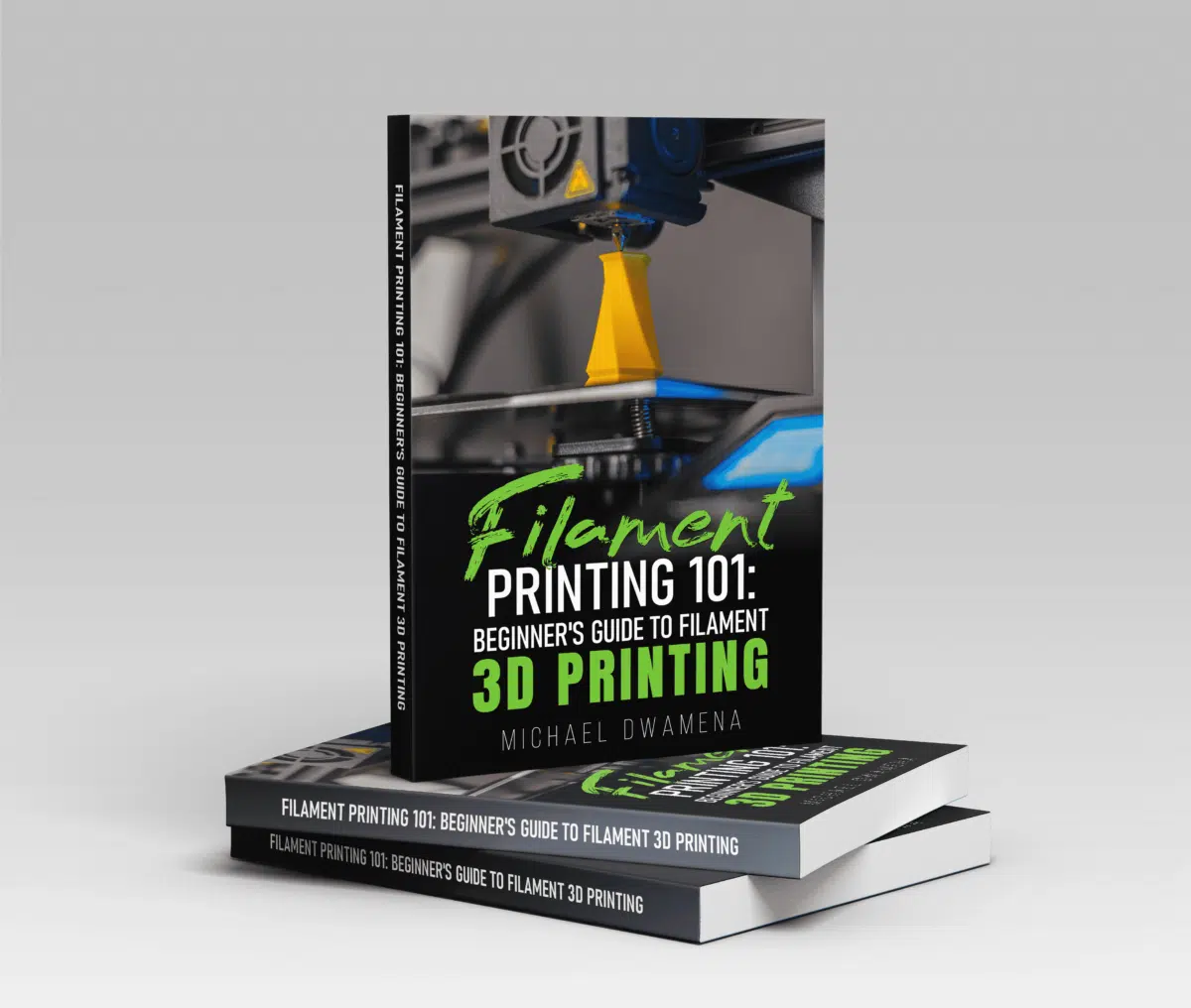 New: Filament Printing 101 Course
Starting out with 3D printing and want to AVOID rookie MISTAKES?
Our new Filament Printing 101 Course is just for you! Lean how to create perfect professional prints without all the hassle.
Don't let common mistakes hold you back, click the link to learn more and get ahead now!
Attaching the build platform and tightening the pull-up knob at the top of the machine, keeping the attitude locking screws loose.

Placing a sheet of paper on the LCD surface and bringing the Z axis to its zero (fully down) position.

Tighten the two locking screws that hold the platform parallel to the LCD.

Adjust the Z axis height by 0.1mm steps (either up or down) to reach the point where the paper is pinched but able to move with slight force.

Reset the Z=0 height to this setting.

Fit the resin tank and tighten the retaining screws.

On the on-screen machine menu, select

tool

—

exposure

—

next

and confirm that the screen shows the Elgoo logo and web address.

Bring the Z axis up to 100 mm height and fill the resin tank,

You're ready to print.
For the AnyCubic Photon, the stages are essentially identical except the build plate is already attached at delivery and the locking of the plate is achieved using a single screw:
Remove the already fitted resin tank.

Placing a sheet of paper on the LCD surface and bringing the Z axis to its zero (fully down) position.

Orientate the build plate to be square to the LCD and machine structure.

Tighten the one locking screw that holds the platform parallel to the LCD.

Adjust the Z axis height by 0.1mm steps (either up or down) to reach the point where the paper is pinched but able to move with slight force.

Reset the Z=0 height to this setting by selecting

tools

—

Z=0

Refit the resin tank and tighten the retaining screws.

Bring the Z axis up to 100 mm height and fill the resin tank.

You're ready to print.
Software
The new class of resin printers is quite different in the way they operate, compared with previous generations of home use machines – FFF or FDM technologies.
The straightforward G-code generator type slicers are therefore not compatible. For example, the point-to-point approach of FFF machines for X—Y reproduction of the slice is not relevant, as the slice is presented as a whole image, all at once.
Equally, the slice resolution and layer thickness are up to an order of magnitude better in this new class of machines, changing the requirements of the slicers. 
Some slicers have already adapted to the altered methodology/format and a range of specialist, resin machine targeted slicers have been launched, with variable operating system compatibilities and performance characteristics:
The Elegoo Mars comes with the Chitubox slicer included. It's adaptable and useful, has many high-level functions, and most users report a good experience with it.
It is widely compatible with resin machines, so for users who have more than one brand of 3D resin printer in their farm, it's a good option.
The AnyCubic Photon comes packaged with AnyCubic Photon Workshop. This is reported as a less polished offering, functionally good but a little clumsy and it's only compatible with the Photon machines.
Many other options, such as those above, are compatible with Photon machines and may represent a better choice for the advancing user.
In terms of on—machine software, both machines have simple, word-driven user interfaces that will be easy to become familiar with.
There's limited onboard functionality, so there are just not that many layers of command to familiarize with. Elegoo employs ChiTu firmware, and the AnyCubic machine uses Photon V5.0.2 firmware.
Add-ons
For both machines, the most important value-added accessory is a wash and cure station. Each of the machines' makers offers such a device, and there really is little difference between them – and each has built-in air filtration to reduce toxicity and processing smells.
The Elegoo Mercury Plus is a simple-to-use device that allows water or IPA cleaning.
You can load the build plate into the machine, or remove the model(s) and put them in a wash basket. The wash/cure volume is suited to the smaller resin printer's build envelope, at 125 x 85 x 160 mm (bigger than the model by 5 x 17 x 5 mm).
The build plate should not require re-leveling after removal and refit, but you need to check your confidence about this.
Cure is carried out by IR LEDs and you get to set the wash and cure durations – but you have to remove the wash fluid yourself, before curing.
It will not fit the maximum model capacity from larger printers — which is unimportant when you buy it, but may become more important later.
Priced at US$120, this is the lowest cost of the wash and cure stations we are reviewing — but not cheap.
The AnyCubic Wash and Cure is functionally very similar in all regards, although the model envelope is a little smaller, at 115 x 65 x 165 mm, the same size as the AnyCubic printer build envelope.
Big enough, but take care that when you upgrade to a larger printer, it will likely have to be retired. This one is a little more expensive than the Elegoo offering at $150.
A popular option is the Creality UW-01, suited to the larger format of the LD-002R and LD-002H machines, making it a little more future-proof with a model capacity of 170 x 120 x 160 mm. This one sits in the middle of the price range, at $140.
One of the more popular options that is less dedicated and expensive is a simple ultrasonic wash tank, offered by many generic sources — combined with sunlight curing. This can work out at $20-30 and function just as well — while offering a much larger capacity.
There is a wide range of UV cure light boxes available, to suit all budgets. More power is a good thing, as it speeds up the cure process.
The best light cure boxes also include air cleaning capability, as the resins produce toxic fumes when curing. Once cured, the toxicity is very low, but care is required until then and models should always be fully cured before handling/use.
Apart from wash and cure process equipment, there is a range of personal safety and model handling tools that you'll need:
Filter mask – the fumes from curing resins are potentially harmful, but easily removed by a Carbon face mask

Nitrile gloves to protect your hands from uncured resin

Silicone table mats, because messes happen

Room air filtration is a good choice

Various spatulas and brushes will be useful in removing and cleaning models

Good quality electrical side cutters and a scalpel are useful in trimming support scaffolds
Build Volume
The build volume difference between the machines is not significant — both have relatively small build envelopes, but for their price point they are surprisingly powerful machines.
Elegoo Mars build envelope is 120 x 68 x 155 mm

AnyCubic Photon build envelope is 115 x 65 x 155 mm
Pricing
Similarities in the two machines extend to pricing:
Elegoo Mars machine prices range from US$230 to $320, depending on the source – priced without any resin.
AnyCubic Photon machines range from US$299 to $499, but this usually includes a 250 ml resin sample; RPI is around $24.
---
About Elegoo Mars
Overall, the Elegoo Mars was a groundbreaking machine when announced in 2017.
It took some time to come to market thereafter, but it remains a leading-edge machine, despite its small build envelope.
Pros and Cons of Elegoo Mars
No 3D printer is perfect, but this machine delivers on its promise, with few complaints.
Pros
A low-cost printer that prints at a remarkably high resolution (47 µm resolution in X—Y, 0.1 mm in Z)

User-friendly, little assembly required making it close to plug and play

Elegant design and easy to maintain, well made with a quality feel

The printing process is one of the simplest and most reliable in the price range

It's desktop friendly, as long as the filters are maintained

Slicer included; ChiTu Box is a great tool
Cons
Can be smelly, if you let the filters age

Some users complain about shrill beeping

Build volume is quite small
---
About Anycubic Photon
Founded in 2015, AnyCubic found a strong market position for a groundbreaking product — and they remain a pack leader in this competitive market sector.
Pros and Cons of Anycubic Photon
Again, no 3D printer is perfect, but AnyCubic has set a high standard that the market is striving to follow.
Pros
A low-cost printer that prints at what is now the resolution standard to beat in this class (47 µm resolution in X—Y, 0.1 mm in Z)

Minimal assembly required, almost plug and play

Tidy and rugged design, if a little FFF machine-like in appearance, well manufactured and finished

Printing is among the simplest and most reliable for the money

Office suited, if the filters are refreshed regularly
Cons
Small build envelope, best suited to small parts

Photon slicer is a little limited and clunky, though various alternatives are readily available
---
Elegoo vs Anycubic: The Final Verdict
Overall? Too close to call with any certainty.
If futuristic looks are important, the Elegoo is the marginal winner. It also has a slightly bigger build volume – though the difference is really small.
The Included slicer software with the Elegoo is significantly better than that with the AnyCubic. But that's easy to change.
Various marginal wins for Elegoo — but we recommend you read reviews and look at the user groups, before making a decision. They're both remarkable machines!