Hatchbox is one of the most popular brands of PLA filament. It offers an excellent quality-price balance and comes in a wide range of colors. But for a true quality print, you must get the printing temperature right. 
If you're using Cura, which is the ideal Hatchbox PLA filament temperature setting?
The ideal Hatchbox PLA temperature for extrusion is between 180°C and 220°C, depending on the nozzle size and filament color. This filament has a melting point of 155°C, and it starts to decompose at temperatures above 260°C. Hatchbox PLA doesn't require a heated bed, but heat can improve the results.
Best Temperature For Hatchbox PLA
Setting the right temperature for the type of filament you're using is key to 3D printing success. 
PLA is short for polylactic acid, a thermoplastic monomer derived from sugar cane or corn starch. It has similar properties to synthetic plastic materials, such as polyethylene or polypropylene. However, it comes from renewable sources and is organic. 
Hatchbox PLA has a heat deflection temperature of about 52°C, and it melts at 155°C. According to the manufacturer, the recommended extrusion temperature varies from 180°C to 220°C.
You may still be able to extrude the material at temperatures lower than 180°C, but the filament will cool down too fast – potentially before the layer is set. 
By contrast, extruding it at temperatures higher than 220°C could result in over extrusion and a deformed model. 
Hatchbox PLA starts to decompose at temperatures above 260°C. 
Hatchbox PLA Bed Temperature 
PLA is one of the most versatile 3D printing materials.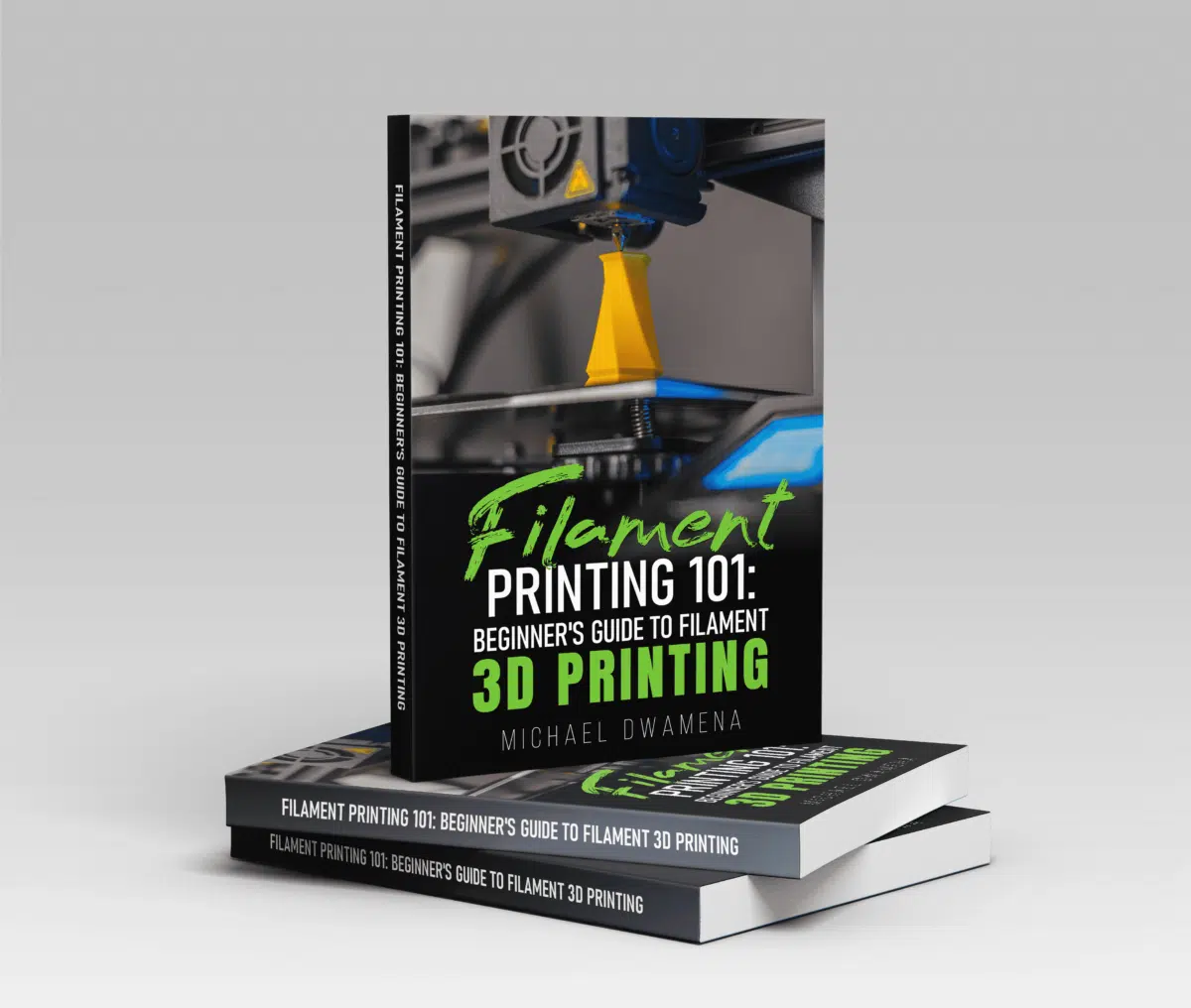 New: Filament Printing 101 Course
Starting out with 3D printing and want to AVOID rookie MISTAKES?
Our new Filament Printing 101 Course is just for you! Lean how to create perfect professional prints without all the hassle.
Don't let common mistakes hold you back, click the link to learn more and get ahead now!
It is one of the few filaments that can be extruded at low temperatures while enabling users to achieve good results at higher temps, too. Minimal wrapping is another appealing characteristic. 
Beginners who want to save money on their first 3D printer may also like the fact that PLA doesn't require a heated bed. 
However, printing with PLA on a non-heated bed may not provide the best results in FDM printing.
Results are a lot improved if you're using an SLA printer, even if the bed isn't heated. To help the filament stick to the surface, it's enough to print over some painter's tape.
For most FDM printers, using a heated bed at a temperature between 50°C and 60°C is recommended to improve adhesion and the final result.
---
Ideal Hatchbox PLA Settings for Cura Users
Ultimaker's Cura is an open-source 3D printing software popular among amateurs and beginners.
While this software is intuitive, getting the settings right when printing with PLA can be a challenge. Newbies often find it hard to prevent over extrusion.
Setting the bed temperature is also difficult, especially since the manufacturer doesn't recommend a range. 
Here are the most popular Cura settings for Hatchbox PLA: 
Hotend

: Hatchbox recommends an

extrusion temp

range from 180°C to 220°C. However, most users prefer an average temperature of around 200°C. The

preferred interval

goes from 200°C to 210°C for all colors. 

Bed

: As mentioned, Hatchbox PLA doesn't require a heated bed. If you're using an FDM printer with a heated bed, however, the optimal bed temperature is between 50°C and 60°C. 

Fan

: PLA requires low printing temperatures, so it shouldn't require much cooling. However, enabled cooling and fan at 100% speed can enhance the results. 

Print Speed

: Most PLA types, including Hatchbox, require a print speed of about 60 mm per second. Some colors or blends may need a slower or faster extrusion, though. The typical range varies from 50 to 100 mm per second.

Build Surface

: A removable magnetic surface is the best option for Hatchbox PLA, although glass, PEI, and blue tape also work well. 
---
Benefits Of Using Hatchbox PLA Filament
PLA is a versatile filament type thanks to its ease of use and minimal wrapping. In addition to these general filament advantages, here are some specific benefits of Hatchbox PLA. 
Environmentally Friendly
One of Hatchbox's PLA main advantages is the biodegradable and eco-friendly characteristics of the product.
This filament is made with 11% recycled wood, it can be recycled again, and it is not toxic. 
Wide Range Of Colors 
Hatchbox PLA comes in about 70 colors, including the sought-after glow-in-the-dark filament option.
Alongside classic hues, you can also find this filament in mint green, bright purple, and metallic finishes. 
Almost Odorless 
An advantage related to the biodegradable and eco-friendly characteristics is the low odor of this product.
If plastic smells bother you, know that Hatchback PLA doesn't smell like plastic and is almost odorless.
Non-Flammable 
This PLA type is not flammable, and it can be stored near your printer.
However, keep in mind that it melts at temperatures over 155°C, and it could degrade when stored in less-than-ideal conditions.
Food Safe Material
While Hatchbox PLA specifically isn't an FDA-approved material, the filament has passed toxicity tests within the European Union. In the EU, it is an approved food-grade material.
Moreover, PLA, in general, is an FDA-approved material in the US for use in surgery.
Printer Compatibility 
Hatchbox PLA comes in 1.75 mm and 3.00 mm thickness options and is compatible with a wide range of FDM and SLA 3D printers.
---
Comparison of Hatchbox PLA With Other Filaments
Hatchbox PLA is a high-quality filament type developed for easy adhesion and a safe environment. It doesn't absorb moisture as fast as other filament types, either. 
The high-quality causes minimal extrusion problems, it doesn't become spaghetti-strap like at the end of the print cycle, and breakage problems are rare.
Models made of Hatchbox PLA generally have a smooth finish, and the risk that they become brittle is minimal.
Another thing to appreciate is the number of hues. You can choose from 70 classic or vibrant colors, most available in multiple nuances and shades.
On top of that, the filament made from natural materials has a faint pancake-like rather than plastic smell. 
Hatchbox PLA comes in a plastic bag that isn't resealable. Thus, you should invest in a good dry box to prevent moisture damage.
While this filament type is often preferred over other brands, here are some Hatchbox competitors to consider: 
MakerBot PLA

: MakerBot is a fantastic high-quality filament. It provides consistent extrusion and little to no jams. It prints smoothly, handles bridging very well, and is generally easy to work with. The main downside is the limited number of colors – around 30, over half of which are regular hues. Hatchbox offers more specialty options and is more affordable.

ColorFABB PLA

: One of the best PLA filaments out there, colorFABB is a PHA-enhanced, lightweight filament designed for premium 3D printing. It boasts a jaw-dropping tolerance of ±0.1 mm and comes in a variety of colors, including colors on demand made to user specification. You'll have to pay for all these features, though; a spool costs about twice as much as Hatchbox, and you'll get less product – 750 grams vs. 1,000 grams, respectively. 

Proto Pasta PLA

: Launched after a successful Kickstarter campaign, Proto Pasta is an extremely interesting specialty filament available in finishes such as rustable metal and stainless steel. It works with 0.4 to 0.6 mm nozzles, but it is very abrasive. You'll have to replace the nozzles more often compared to Hatchbox PLA.

Eryone PLA

: Eryone's best feature is the number of colors this filament comes in. Aside from sought-after solid color options, it is also available in multicolor spools, enhancing versatility. The filament is made from organic materials, but getting the temperature setting right is more challenging than Hatchbox.

Prusament PLA

: An in-house production by popular 3D printer brand Prusa Research, this PLA filament stands out thanks to the glittery finish that enhances the visual appeal of the models. The brand also manufactures special filaments that change color based on temperature. However, it is only available in 1.75 mm options, whereas Hatchbox PLA also comes in 3.00 mm. 
---
Wrapping Up
Printing with Hatchbox PLA may feel intimidating, but with some preparation and proper optimization of your printer's temperature in Cura, you can get very high-quality results. 
This mid-level filament offers a surprising value for money. It is easy to work with; it doesn't jam and typically provides consistent extrusion. You can also choose from a variety of standard and specialty colors. 
Whether you're switching from ABS to PLA or want to start your 3D printing journey with PLA as a first filament, we hope these guidelines can help you set the ideal temperature and other printing parameters like a pro.